The Estate Planning Council of San Bernardino is an interdisciplinary organization for professionals involved in estate planning.
The Estate Planning Council of San Bernardino strives to foster understanding of the proper relationship between the functions of the Life Underwriter, Trust Officer, Attorney, Accountant, Financial Planner and any other party or parties having to do with estate planning, and to encourage cooperation of persons acting under those disciplines.
The Council meets 8 times a year (September, October, December, January, February, March, April and May) from 11:45 a.m. – 1:15 p.m. on the 3rd WEDNESDAY of the month. Membership meetings for the 2023-2024 council year will be a combination of in-person and virtual meetings.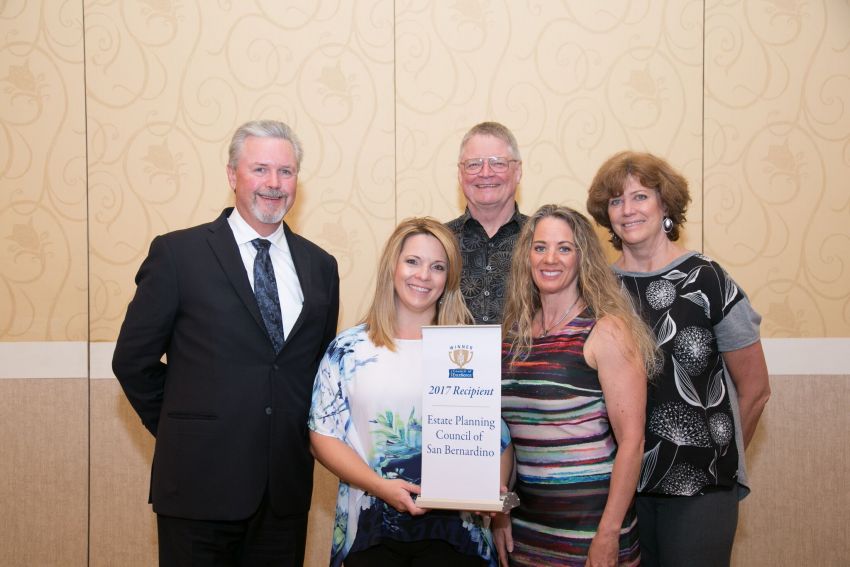 Members of EPCSB at the NAEPC Advanced Estate Planning Strategies Conference
New Orleans, Louisiana - November 2017
(From Left to Right: Larry Hoatson, Jennifer Daniel, Frank Campbell, Joanna Averett, and Karen Kirchner.)

CONGRATULATIONS TO ESTATE PLANNING COUNCIL OF SAN BERNARDINO
recipient of the Council of Excellence Award in 2016 and 2017!
---
Estate Planning Council of San Bernardino County is affiliated with the National Association of Estate Planners & Councils and joining can fulfill the requirement of belonging to an affiliated local estate planning council to become an Accredited Estate Planner® (AEP®) designee. Please contact the national office at 866-226-2224 to learn more about the Accredited Estate Planner® designation.